"There are 24 rats for every man, woman and
child..."
The film begins with a class sitting through a lecture on rats by Dr Spencer, who tells his audience that we are outnumbered by rats and that they destroy a massive amount of crops. We then switch to a granary and the visit of Ms Leonard from the Department of Health. She tells the owners that it all must be condemned as its infested with rats, and so as a consequence it is incinerated....and it is here that we catch our first glimpse of some unusually large, evil looking rats.
With their home destroyed we see them on the rampage, pulling a baby from its high chair and devouring both mother and child. One of the rats victims survives and ends up in hospital, leading to the meeting of Miss Leonard and his teacher, Harris, who is the star of this picture. Together they investigate the strange deaths that have occurred, and there suspicions are confirmed when a field inspector, Foskins, is found dead in the sewers. Dr Spencer manages to inform the due that when food runs out rats need a new source, and that the sewer pipeline had become their runway between lair and food source...but even he falls victim to these deadly creatures. The sewers are fumigated, but Harris has more pressing matters...a new subway has been built and his son and newfound love have gone to the grand opening....and so too have the rats.
When the electrics are cut off in the new subway a panic ensues on the train full of passengers which include the Mayor. Harris runs down the tracks to meet the group, who have left the train to walk the dark, deadly tunnels. After a wave of attacks Harris finds himself in the lair, surrounded by these monstrous rats. This is a must see film with some creepy music, gruesome deaths and an excellent ending...the only let down are the special effects, yet considering the date it was release it is still pretty hair raising stuff. I saw this film when very young, and the image of the toddler in the high chair still haunts me to this day.

Copyright(C) 2007 - 2020. All rights reserved.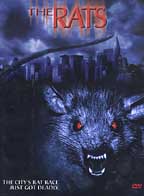 | | |
| --- | --- |
| Directed by | Robert Clouse |
| Produced by | |
| Written by | |
| Starring | Sam Groom Scatman Crothers Sara Botsworth |
| Music by | |
| Distributed by | |
| Release date(s) | 1982 |
| Running time | 87 minutes |
| Language | English |