"The mirror is the secret of my strength, the keeper of my soul, the
destiny of our family."
The second installment of Candyman films begins not to long after the end of the first, with the lecturer Percell (who recounted the history of Candyman in the first film) telling a captivated audience that the Candyman died for love, and that further insight into this legend could be read about in his new book all about Candyman. Percell describes how the Candyman is called and links the story to what happened with Helen in the first film. However he is closely watched by a young guy, Ethan, who confronts him after his 'lecture', stating that the Candyman was real and in New Orleans, and that Percell had called him. Of course Percell doesn't believe this and shrugs such claims off, yet within minutes Percell's role in the second film is all but over...and the Candyman has returned.
The story then switches to its new central character – Annie, who is sister to Ethan. She hears of her brothers wrongful arrest for the death of Percell, and hears that in fact her brother had confessed to the murder. The police also inform her that Ethan is also linked to their fathers death, starting Annie off into her own investigation. As she is drawn deeper into looking into her fathers death she meets Candyman, who tells her they have a journey to make. She learns that her father was obsessed with the legend, and went to extremes to discover the way in which he could be destroyed – the mirror. Whilst this happens there is the odd death occurring and a fuller history is learned about how the Candyman came to be...yet perhaps more disturbing for our heroine is the link between the Candyman and her own family. It seems she grew up in the same house as he, and that her mother harbour a dark secret from her.
He takes her on a journey to experience what he experienced..whilst at the same time inadvertently telling Annie of his weakness. The climax to the film sees Annie battling with him in the old slave quarters, which collapses. But who will survive????

Copyright(C) 2007 - 2020. All rights reserved.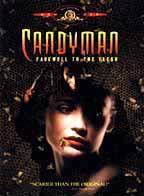 | | |
| --- | --- |
| Directed by | Bill Condon |
| Produced by | |
| Written by | Clive Barker Rand Ravich |
| Starring | Tony Todd kelly Rowan William O'leary Bill Nunn Matt Clark |
| Music by | |
| Distributed by | |
| Release date(s) | 1995 |
| Running time | 93 minutes |
| Language | English |