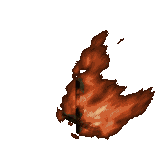 Theres some robes...and they are dancing like its ring
around the rosey....'
Frank and Roger and their wives take off for Colorado in a recreational vehicle, looking forward to some skiing and dirt biking. On the way they pull over at a picturesque location...a nice river view. As the women relax in the camper and the men drink beer outside the are attracted to a light....a fire with people dancing around in some sort of ritual. they observe some form of satanic ritual...and naked woman is stabbed. the are seen by those who sacrifice the woman, who give chase, but the two couples escape and all is well.....
When they get to the nearest town they report what they have seen to the local Sheriff, who takes the men back to scene. They discover a dead dog and some blood stains, and the Sherrif sends them on their way...yet the women receive a warning and carry out their own investigation, revealing witchcraft and satanic worship. Throughout their journey the group feel they are being watched, and whilst stopping at a caravan park their dog is killed and snakes are planted in their motor home. They panic and continue to drive to the nearest city...yet they are followed by numerous vehicles who try to get them off the road.....
As morning dawns the dog is buried and the holiday makers feel that they have escaped their pursuers...a diversion leads them a little way of course but surely they will reach the city. They pull over to rest for the evening......are they safe??? This is one of my favourite films and is a must for all horror fans....and the ending is freakish to say the least. Enjoy.....

Copyright(C) 2007 - 2020. All rights reserved.