This Halloween her past is yet to come.

Molly Hartley (Haley Bennett), a 17-year-old girl, is stabbed by her deranged mother, but miraculously she survives. Although she heals from the wound itself, she is still haunted psychologically by the experience.

Her father, with whom she lives, enrols her in a new school to help her cope with the trauma and to a new life. However, as her 18th birthday approaches, Molly must deal both with the stress of being a new student and with the continuing nightmares she has of her mother's attack. She begins to experience ongoing symptoms of the same psychosis that took control of her mother's life, but eventually Molly discovers something far more sinister. It appears that her mother and others who share her mother's concerns want her killed in order to save her from a pre-ordained life as a servant of the devil.

It's revealed that Molly had died as the result of a miscarriage and her parents made a pact with the devil (as you do) to save her life. But they would only have until her 18th birthday, at which point she belonged to the devil. She (Molly) can either kill her father to break the pact, or turn over to the devil. She attempts to let her father live and not join the devil by stabbing herself and trying to kill herself. This attempt is in vain however because the clock has already struck midnight...

Copyright(C) 2007 - 2020. All rights reserved.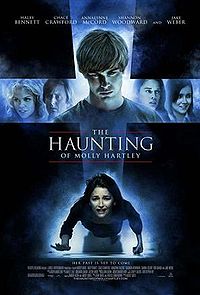 Directed by
Mickey Liddell
Produced by
Jennifer Hilton
Jerry P. Jacobs
Written by
John Travis
Rebecca Sonnenshine
Starring
Haley Bennett
Chace Crawford
Jake Weber
Music by
James T. Sale
Distributed by
Freestyle Releasing
Release date(s)
October 31, 2008
Running time
92 mins.
Language
English
Budget
$5,000,000