Mi-ja, who has been taking care of a retired teacher, Miss Park, invites several of her former students to her house sixteen years after their graduation. I suppose you could call the gathering a reunion. Since the end of her teaching career, Park has been residing in the countryside, suffering from an illness.
Se-ho, Eun-young, Sun-hee, Dal-bong, and Myung-ho each resent her for different reasons. Se-ho and Eun-young, who were president and vice-president of their class, are planning to marry, and remember the time when they were belittled by their teacher for being poor. Sun-hee, skinny and beautiful, was made fun of by their teacher for being obese during her years at high school. Dal-bong, who had dreamed of becoming a footballer, became handicapped due to severe corporal punishment. Myung-ho's mother, who filed a complaint, was dismissed as a psyhcopath. Essentially what we have is a reunion with a difference - it seems that all of her ex pupils hold grudges for the way in which she treated them in the past.
The first question has of course ot be why the hell this woman wants to invite these pupils to a reunion. As the night of the reunion progresses, her former students plot revenge. Does she have an ulterior motive herself, and what will happen to her at the hands of her vengeful students!!

Copyright(C) 2007 - 2020. All rights reserved.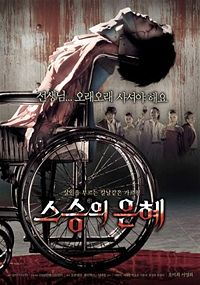 Directed by
Im Dae-woong
Produced by
Written by
Park Se-yeol
Starring
Oh Mi-hee
Seo Yeong-hee
Music by
Distributed by
Show East
Release date(s)
3 August 2006
Running time
93 mins
Language
Japanese
Budget
US$2.5 million