"Everybody Dies!"
Christopher, a lonely and plain man, finds an invitation to a Halloween costume party entitled "Murder Party", on the street. Constructing a knight costume out of cardboard, he makes his way to Brooklyn to attend the party, only to discover it is actually a trap set by a group of deranged art students. The art students are costumed as a goth/vampire, a werewolf, a zombie cheerleader, and a Baseball Fury. They intend to commit a murder as a piece of artwork to impress their wealthy and sinister patron. Chris brought along a loaf of pumpkin raisin bread, which one of the students starts to eat.
She then reveals that she is allergic to non-organic raisins, and didn't know about them. The group asks if she'll be OK, and she agrees explaining she's only a little dizzy and needs to sit down, however she falls over and hits her head on an axe and dies. The group hides the body, as they don't want their patron to see it when he arrives.
The patron comes and has arrived late to the Murder Party and is searching for students to award grant money to. Drugs and alcohol fuel the group as the situation spirals out of their control and Christopher tries to make it home from the Murder Party alive.

Copyright(C) 2007 - 2020. All rights reserved.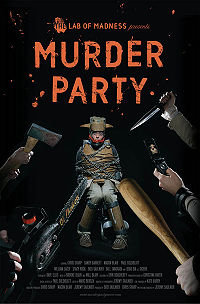 Directed by
Jeremy Saulnier
Produced by
Skei Saulnier
Chris Sharp
Written by
Jeremy Saulnier
Starring
Chris Sharp
Sandy Barnett
Macon Blair
Paul Goldblatt
William Lacey
Stacy Rock
Music by
Distributed by
Magnolia Pictures
Release date(s)
January, 2007
Running time
79 min.
Language
English
Budget