The eyes of the city are mine.
In Anguish's complex and intertwined plot, viewers watch an audience watching a movie nested inside Anguish called "The Mommy," in which much of the story takes place in yet another theater auditorium, where that audience watches yet another movie (the silent classic, The Lost World).
Anguish's main story concerns Alice Pressman (Zelda Rubinstein), a grasping, overprotective and psychotic woman, and her crazed son, Michael (Michael Lerner) who Alice controls through hypnosis and some never quite explicated paranormal domination. Her son is extremely myopic and progressing toward blindness. Alice believes that collecting eyes will mend her son's vision, and believes her own fantasy that he is a well respected ophthalmologist (he is actually an orderly employed at an ophthalmologist's office). She sends him to collect eyes from living victims, which he does at a local theater showing The Lost World.
When the camera pulls back, a second story is revealed. Alice and Michael are the stars of The Mommy being watched by two teenage girls in a movie theater. In that theater, there is a man watching The Mommy with crazed intent.
Although the main focus of Anguish is the story of The Mommy, all the stories eventually intersect to gruesome effect.

Copyright(C) 2007 - 2020. All rights reserved.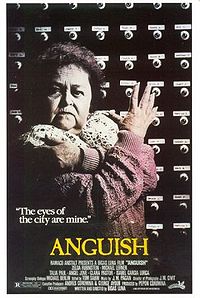 Directed by
Bigas Luna
Produced by
Pepón Coromina
Written by
Bigas Luna
Starring
Zelda Rubinstein
Michael Lerner
Talia Paul
Angel Jove and
Clara Pastor
Music by
José Manuel Pagán
Distributed by
Luna Films
Release date(s)
January 8, 1988
Running time
86 min
Language
English
Budget