Johnny De Jesus is a typical Canadian teen-ager; despondent, rebellious, and has no regard for his family. When the De Jesus-Reyes family gets word that their family matriarch, Lola (Grandmother) Nena has died, Johnny, and his prissy older sister Anna are in charge of representing their parents in Manila for the reading of their Lola's last will and testament.
Johnny, a first time balikbayan, sees Manila with foreign eyes; from the poorest squatters to the richest of the gated village mansions. Johnny is introduced to his cousin Vanessa, a Manila junior socialite who shares Johnny's taste for drugs and trouble. At the reading of the will the three grandchildren of Lola Nena are awarded the deed to the family farm in rural Bulacan. A bumpy two-hour ride out of the city, shuttled by their family driver, Dante, they arrive at the 19-hectare property, miles away from the comforts of the modern world. The land is as vast, lush, and teeming with insects' hum. But things are anything but placid in this provincial landscape.Johnny's first surprise comes in the form of Tommy, a mentally handicapped man with a seemingly developed third eye, lives on the farm, is also part of the inheritance. Vanessa has a surprise of her own when she takes Anna and Johnny to the secluded field beyond the orchid garden and reveals the marijuana she has planted to be harvested by her obnoxious, rich, prep-school drop out friends, Nicco, Paolo, and drug dealer boyfriend, Ronnie.
Things take a turn when Johnny comes to the reluctant realization that supernatural forces are at work on the land and the folklore that haunted his childhood are real.
First are the sightings of his Lola's ghost, which Johnny tries to dismiss as drug-induced hallucinations. Is Johnny falling for local superstition in his stoned stupor? Is someone trying to poison them or are there truly Duwendes on the property cursing them. What is the real reason why the local farmers stay away from the property? What is the dark secret that Lola Nena took to the grave and left for Johnny to discover?

Copyright(C) 2007 - 2020. All rights reserved.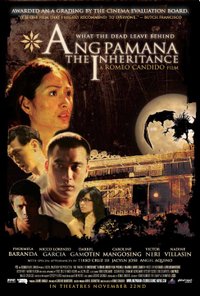 Directed by
Romeo Candido
Produced by
Caroline Mangosing
Written by
Romeo Candido
Carmen DeJesus
Ria Limjap
Starring
Darrel Gamotin
Music by
Gerard Salonga
Distributed by
Release date(s)
2006
Running time
Language
Tagalog
Budget