Just before the end of her semester at college, Lenore Harker leaves to have a baby with her architect boyfriend Frank at his remote log cabin in the woods. After discovering the baby has doubled in size in just a month they have to extract the baby by caesarian section, without Frank being present. As the doctor cuts the umbilical cord all hell breaks loose, with the baby killing every doctor and nurse in the operating room. When we cut back to the new mother, baby is asleep on her stomach and the room is painted a lovely shade of blood red. After questioning by the police Lenore is allowed back home with her baby and is left to get on with her life while they organize a psychologist to help her try to remember anything. Itís not long before Death Baby bites Lenore when sheís feeding him and his taste for blood is revealed.
Gradually the baby gets the taste for rats, cats and penguins before progressing to killing fully-grown people. Lenore refuses to accept her baby is a cannibalistic fiend. Frank comes home from work to Lenore sitting in the baby's room and finding Daniel missing from his cot. He asks Lenore where he is and finds a dead bird in the cot. He then goes in search of Daniel getting locked in the basement. The police find him and Frank witnesses Daniel kill the police officer. Frank then manages to capture Daniel and is about to kill the baby but cannot go through with it. He is then attacked.
Lenore comes out to find Daniel and sees Frank is injured. Lenore brings the baby back to the house and it is implied she kills herself and the baby in the fire while Frank and his brother watch the house burn.

Copyright(C) 2007 - 2020. All rights reserved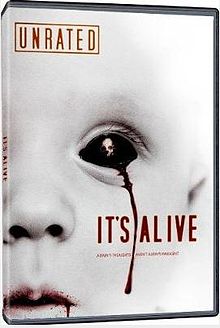 Directed by

Josef Rusnak

Produced by

Mark Damon

Written by

Paul Sopocy
James Portolese

Starring

Bijou Phillips
RaphaŽl Coleman
James Murray

Music by

Nicholas Pike

Distributed by

Release date(s)

October 6, 2009 (USA)

Running time

97 mins

Language

English

Budget