Why can't you understand I'm not an individual like you, free to act according to my own desires! I'm senior British officer! I wish I wasn't, but I am.
The film starts as two captured British POW's arrive at the notorious Colditz Castle, at first they fear for their lives in the belief execution awaits them. They meet other Allied prisoners and realise the castle is being used to round up the most troublesome persistent escapers and hold them all one secure prison. The prisoners initial attempts at freedom are unsuccessful as various nationalities try to escape without discussing their plans with each other, during the ensuing chaos episodes like the two separate tunnels running each other take place making the German guard's job easier. Colonel Richmond (Eric Portman) steps forward and decides each nationality must elect an escape officer to ensure co-operation between those attempting to escape. Despite their new found co-operation and seemingly good escape plans the Germans continually foil their attempts to breakout, prompting the belief that there is an informer in their midst. The spy is disclosed as a Pole who was indebted to the Gestapo due to their kind treatment of his family, during the following court martial it is decided his sentence is death. Colonel Richmond goes to the Commandant (Frederick Valk) and requests he transfer the exposed Polish soldier before sentence is passed.
On the spur of the moment a plan is hatched for Jimmy Winslow (Bryan Forbes) to escape on the back of a lorry, the attempt is successful and it appears the first prisoner has broken free from Colditz. Sadly, Winslow is recaptured days later and returned to the castle. Pat Reid (John Mills) and McGill (Christopher Rhodes) are next to hatch a plan to escape as two German sentries while the prisoners are holding a Concert. Upon hearing the plan Colonel Richmond tells McGill he should stand down because he is too well known by the guards and would be a risk to the plans success, McGill is unable to cope with Richmond's request and is killed during a suicidal escape attempt. Pat Reid and three others proceed with McGill's escape plan and successfully break out of the castle – Reid and Winslow later sending a postcard from Switzerland to inform the prisoners of their freedom. Despite being intended as the most secure POW prison, Colditz held the record for the most successful escapes during the war.

Copyright(c) 2007 - 2025. All rights reserved.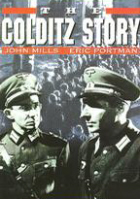 Movie Script