Blue Leader to all sections. Enemy anti-aircraft intact. Keep your eyes open. We're going in.
When Norweigan resistance leader Lieutenant Erik Bergman (Chakiris) reports the location of a German V-2 rocket fuel plant, the Royal Air Force's 633 Squadron is assigned the mission to destroy it. 633 Squadron is under the command of Wing Commander Roy Grant (Robertson), an American serving in the RAF.
The plant is in a seemingly-impregnable location beneath an overhanging cliff at the end of a long, narrow fjord lined with anto aircraft guns. The only way to destroy the plant is by collapsing the cliff on top of it, a job that only 633 Squadron's fast and manoeuvrable de Havilland Mosquitos are deemed capable of. The squadron trains for its mission in Scotland, where there are narrow valleys similar to the fjord.
The Norwegian resistance is supposed to destroy the anti-aircraft defences guarding the facility, but the attackers are all killed or captured, and the squadron is forced to attack with the defences still intact. The factory is destroyed, partly due to Grant's Mosquito fighter-bomber circling to draw anti-aircraft fire away from the other aircraft making bombing runs. Most of the aircraft are destroyed, including Grant's aircraft which crash-lands in the Norwegian countryside. A local man nearby helps Grant's navigator pull the wounded wing commander from the burning wreckage.
The entire squadron is lost, except for Grant and his navigator. However, the mission is a success. Back in England, Air Vice Marshal Davis (Andrews) tells a despairing airman, "You cannot kill a squadron."

Copyright(c) 2007 - 2020. All rights reserved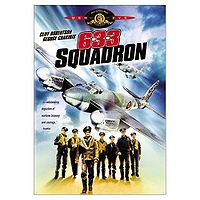 Movie Script