It's part of our work to die. But we are not going to die. Do you believe me?
Do you believe me?
The movie revolves around a battle between an American Buckley Class Destroyer Escort, the USS Haynes (DE-181), and a German U-Boat that is attempting to rendezvous with a German merchant raider in the South Atlantic Ocean. Captain Murrell (Mitchum), a former officer in the merchant marine, has recently taken command of the Haynes, even though he is still weak from having survived the sinking of his previous ship. When the U-boat is first detected, some members of the crew of the Haynes doubt their unfamiliar captain's fitness and ability. However, Murrell shows himself to be a match for wily U-boat Kapitän von Stolberg (Jürgens) in a prolonged, deadly battle of wits that tests both men and their crews. Each man grows to respect his opponent.
In the end, von Stolberg succeeds in torpedoing the destroyer. However, Murrell has one last trick up his sleeve. He has his men set fires on the deck to make the ship look more damaged than it actually is, hoping that von Stolberg will decide to surface and sink the destroyer with the U-boat's deck gun instead of using another valuable torpedo. The trick works, and when von Stolberg surfaces to finish off the Haynes, Murrell uses his ship's guns to disable the submarine and destroy its deck gun, and then rams the U-boat with his sinking ship ensuring that both vessels will be destroyed.
The two commanders see each other and grimly, yet respectfully exchange salutes. However, when Murrell realizes that von Stolberg is awaiting death with his dying friend, 'Heini' Schwaffer, he goes back to help. The survivors are rescued by another American destroyer and the Americans look on respectfully as von Stolberg and the surviving members of the U-boat crew conduct a funeral service for Schwaffer and consign his body to the deep.

Copyright(c) 2007 - 2025. All rights reserved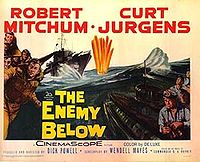 Movie Script