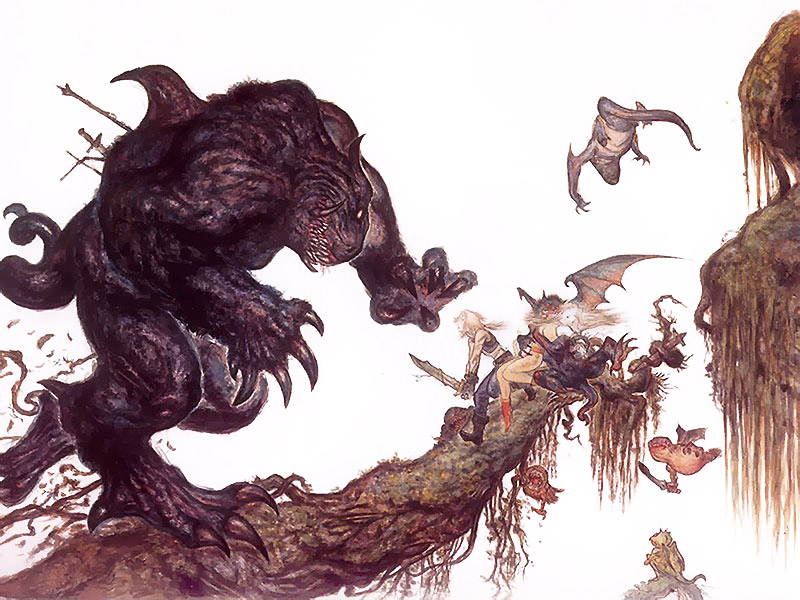 Behemoth (Hebrew בהמות, behemot English pronunciation: /bɨˈhiːməθ/ or /ˈbiː.əməθ/, also /ˈbeɪ.əmɔːθ/) is a mythical creature mentioned in the Book of Job, 40:15-24
Job 40:15-24 describes Behemoth, and then the fire-breathing sea-monster Leviathan, to demonstrate to Job the futility of questioning God, who alone has created these beings and who alone can capture them:
15 Behold now the behemoth that I have made with you; he eats grass like cattle.
16 Behold now his strength is in his loins and his power is in the navel of his belly.
17 His tail hardens like a cedar; the sinews of his tendons are knit together.
18 His limbs are as strong as copper, his bones as a load of iron.
19 His is the first of God's ways; [only] his Maker can draw His sword [against him].
20 For the mountains bear food for him, and all the beasts of the field play there.
21 Does he lie under the shadows, in the cover of the reeds and the swamp?
22 Do the shadows cover him as his shadow? Do the willows of the brook surround him?
23 Behold, he plunders the river, and [he] does not harden; he trusts that he will draw the Jordan into his mouth.
24 With His eyes He will take him; with snares He will puncture his nostrils.
In Jewish aprocrypha and pseudipgrapha such as the 2nd century BCE Book of Enoch, Behemoth is the primal unconquerable monster of the land, as Leviathan is the primal monster of the waters of the sea and Ziz the primordial monster of the sky. In the 2nd century BCE
1 Enoch
Leviathan lives in "the Abyss", while Behemoth the land-monster lives in an invisible desert east of the garden of Eden (1 Enoch 60:7-8). A Jewish hymn recited on the festival of Shavuot describes a great battle which will take place between them at the end of time: "...they will interlock with one another and engage in combat, with his horns the Behemoth will gore with strength, the fish [Leviathan] will leap to meet him with his fins, with power. Their Creator will approach them with his mighty sword [and slay them both]." Then, "from the beautiful skin of the Leviathan, God will construct canopies to shelter the righteous, who will eat the meat of the Behemoth [ox] and the Leviathan amid great joy and merriment."

Copyright(c) 2007 - 2020. All rights reserved.