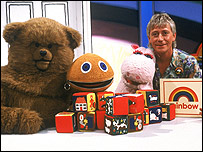 Rainbow is a British children's television series, created by Pamela Lonsdale, which ran twice weekly at 12:10 on Tuesdays and Fridays on the ITV network, from 16 October 1972 to 6 March 1992. It was intended to develop language and number skills for pre-school children, and went on to win the Society of Film and Television Arts Award for Best Children's Programme in 1975.
The programme was originally conceived as a British equivalent of long-running American educational puppet series Sesame Street. The British series would be developed in house by Thames Television, and had no input from the Sesame Workshop.
After more than 1000 episodes, the series came to an abrupt end when Thames Television lost its ITV franchise at the end of 1992. Since then, it has gained cult status and continues to get frequent mentions on radio and television.
Each episode of Rainbow revolved around a particular activity or situation that would arise in the Rainbow House, where the main characters lived. Usually it would involve some kind of squabble or dispute between the puppet characters of Zippy, George and Bungle, and Geoffrey's attempts to calm them down and keep the peace. The main story would be interspersed with songs (usually from Rod, Jane and Freddy, although guest singers would occasionally take their place), animations, and stories read from the Rainbow storybook, usually by Geoffrey. Some episodes would focus on a particular theme, such as sounds or opposites, and would consist mainly of short sketches or exchanges between the main characters, rather than a consistent storyline.
Rainbow featured the following characters, each with their own character style:
A few episodes also include some sort of a Geoffrey-type figure for Zippo called Vince. He seemed to be some sort of a brother to Geoffrey.
Generally speaking, George and Zippy represented two 'types' of child, George being the quiet and shy type, while Zippy represented the hyperactive and destructive type. George was usually vindicated, but Zippy got his comeuppance. While they were apparently young 'children', Bungle was an older 'child', and differed from them in being a costume, rather than a hand puppet. Geoffrey's relationship to them was unclear, other than being a kind of father figure (although he is referred to as 'Uncle' Geoffrey in at least one episode) . Apart from Jane and (in the early days) Sunshine, females rarely appeared on the programme, despite some ambiguity concerning the often effeminate (and permanently pink) George.
In 1989, Rod, Jane and Freddy left the show to concentrate on touring, pantomime appearances and their own separate TV show (which had run parallel with Rainbow since 1981). This meant that Dawn Bowden was introduced as a regular female character in place of Jane, while the songs were generally provided by guest singers, notably Christopher Lillicrap. The show would also often include guest stars, to make a change from Geoffrey telling all the lessons - this way, the characters would be told stories and lessons by a fresh face.

Copyright(C) 2007 - 2020. All rights reserved