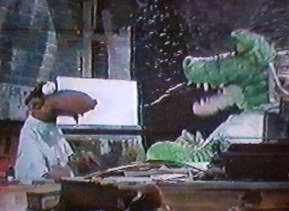 Play theme tune...
Round the Bend was a British children's television series, which ran for three seasons on Children's ITV from 1989 to 1991. It was cancelled, supposedly following complaints from Mary Whitehouse's National Viewers and Listeners Association about the coarseness of the satire and for being politically incorrect. The show was a Hat Trick production for Yorkshire Television. The show was later repeated on Channel 4 and Nickelodeon UK.
Created by the team behind the comic Oink! - Patrick Gallagher, Tony Husband and Mark Rodgers, the puppets were made by the team who made the puppets for Spitting Image. Round the Bend was a parody of Saturday morning magazine shows — with a host providing linking material between cartoons, music videos and news sections - albeit set in a sewer. The title of the show is a reference to a toilet U-bend, with the opening titles beginning with the camera being flushed down a toilet and ending up in a sewer.
The Son of, The Return of, The Revenge of.... The False Teeth From Beyond The Stars. Another B-Movie parody, featuring a character named Roger Prentice, the apprentice Dentist. A crossover between the Atomic Banana ensued, entitled False Teeth From Beyond the Stars Meet Atom Banana.
Pzycho the Magnificent - an animated section in which Pzycho would attempt to use magic for his own personal gain, but would get caught by the police every time.
The Oddbod Family - animated shorts, each week centred around a member of a family who all have abnormal abilities.
Tommy's Magic Time Trousers - animation about a boy who can travel through time whenever he drops his trousers. Many trouser puns were used, such as in the time-travel sequence Tommy would say "The flies the limit!", with the trousers replying "Brace yourself Tommy!!". The segment always ended with the trousers saying "If only he knew Tommy!, if only he knew!".

Copyright(C) 2007 - 2020. All rights reserved.