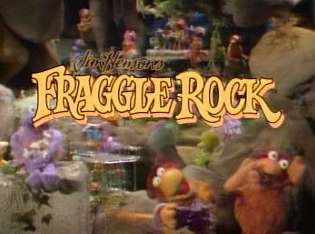 Aretha (Sharon Lee Williams), a cave creature, accompanies Gobo when he sings "Only Way Home" in episode 33.
The Avalanche Monster (Bob Stutt) consists of a terrible pile of walking boulders. This creature has very poor eyesight but quite acute hearing, and lives in Avalanche Pass, on the Wonder Trail.
The Beast of Bluerock lives in a mysterious lair that is only visible for the two days after the Doozer equinox, and then unseen for another year: later proven to be the fear in the Fraggles' hearts, a test by the Trash Heap.
The Blob, a giant rolling blob of generally amorphous shape, nevertheless has some kind of mouth somewhere. In one episode, the Blob comes in and eats Doozer after Doozer. The Fraggles finally find a way to get the Blob to regurgitate all the Doozers by telling jokes and getting the thing to laugh very intensely.
Blue Dragon (Rob Mills) is the creature that Red encounters in one of the worlds beyond the magical arches of the T. Matthew Fraggle Room in episode 80.
The Blustering Bellowpane Monster (Tom Vandenberg) is the creature which blows Boober's lucky hat off his head in episode 8.
Brool the Minstrel (Tim Gosley) is one of the five Minstrels. He plays a string instrument that looks like a large guitar.
Clinging Creepers: killer weeds that can spread quickly; stoppable only by flowers. Bouquet brigades formed in order to hang flowers throughout the rock to repel the creepers.
Ditzies are small tiny creatures that give off light. They live off music and are the source of all light in Fraggle Rock.
Food is a strange, brown creature that makes his appearance many times in Fraggle Rock. He first appeared on Saturday Night Live with the Muppets during a sketch.
Flying Batworm (Steve Whitmire) is a nocturnal creature also known as the Hairy-Chested Flying Batworm.
Honkfish inhabit the river near the Gorgs' Castle. They swim around a bend and get stuck once a year.
The Inkspots (Rob Mills and Gordon Robertson) are little creatures with bulging eyes who appear in the background of various episodes.
The Invisible Gargoyle, a fearsome demon of Fraggle lore, living in the Great Outer Maze. No-one knows its size or shape — due to its invisibility. Gobo accidentally releases it but tricks it back into its rocky tomb.
Lanford (Rob Mills) is Mokey's pet plant, a Night-Blooming Yellow-Leaved Deathwort. Though they have moments of reconciliation, for the most part Lanford and Red do not get along.
The Last of the Lilly Creatures (Bob Stutt), a purple sea-monster: Red discovered it in the episode Red's Sea Monster.
The Magical Spider-Fly (Richard Hunt), a flying insect, can turn into an avuncular Fraggle-like being and grant wishes.
Mavis, the Magic Mirror (Sandra Shamas) is a magical mirror which Red and Cotterpin encounter in episode 84.
The Mean Genie (Richard Hunt) is found by Wembley in episode 57. He is a rude and selfish bully who exhibits bad behaviors such as painting graffiti, breaking things and drinking radish beer.
Merggles appear in episode 89 when roots are taking over the pond and Red tries to kill them, yet when she touches the roots she receives the message "follow the roots" and indeed does follow the roots to find a new land inhabited by Merggles, who are like Fraggles but have fins instead of legs.
Mirkmonster (Bob Stutt), an enormous creature, appears only as an arm, longer than a handful of Fraggles.
Mudwell the Mudbunny (Richard Hunt), a creature whom Wembley meets, has a very short life-span. He dies, leaving Wembley to learn about life's greatest mystery.
Murray the Minstrel (Steve Whitmire) is one of the five Minstrels and "second in command" to Cantus. He plays a guitar.
The Pipe Bangers (episode 2), Fraggles who come out after the King Gorg takes his daily bath and empties the Fraggle's pond, sing and repeatedly bang on the pipes in the wall until the pond fills with water again.
The Plants of the Cave of Boredom/Forgetfulness are carnivorous plants that release a gas (or a form of pollen) that causes anyone who breathes it in to forget absolutely everything. Eventually, the victim reaches the point where they forget how to stand up and the plants move in and eat them.
The Poison Cackler (Tim Gosley) is a large, fearsome, scorpion-like creature who enjoys eating smoke bombs.
Purple Sproingers are jellyfish-like creatures that float through the air. They are actually metamorphosed Toe Ticklers.
Rock Clingers live in the Crystal Cavern. If they fall in love with a Fraggle, the creature will follow that Fraggle everywhere.
Skenfrith (Dave Goelz) is magical creature whose appearance and personality are altered depending on what those around him believe or imagine.
The Terrible Tunnel may or may not be considered a creature (it's unknown whether it is actually alive or not), but it is terrible. It is a long, cobweb-encrusted tunnel that leads to a large head-shaped boulder. If the boulder is touched, it snaps open like a set of jaws and pulls any unfortunate creature into it with a powerful vacuum. Wembley, Gobo and Red barely escape from it. So far, they're the only ones who have.
Toe Ticklers are fuzzy caterpillar-like creatures that are despised by the Gorgs since they eat flowers. However they eventually pupate and turn into flying jelly-fish like creatures (Purple Sproingers) which the Gorgs admire as beautiful creatures of the skies (much in the same way that humans look upon caterpillars and butterflies).
Wander McMooch (Bob Stutt) is a terrible warty creature who lives in some form of swamp or bog. He first appears in "Junior Sells the Farm" where he tries to swindle the Gorgs out of their homestead. He seems to have some prior experience with Fraggles because he hates them. He is revealed to be an old nemesis of Marjory the trash heap and enslaves Philo and Gunge when they leave home for greener pastures in "Home is Where the Trash is". When the Fraggles discover this predicament (Marjory is sure they are in trouble but unclear in what way), it is up to them to track down McMooch and assail him with a barrage of mushy sentiments and hugs and kisses (which he despises) to get him to free Philo and Gunge.
Season 1: 1983
| Episode | Title | Original airdate |
| --- | --- | --- |
| 1 | "Beginnings" | January 10, 1983 (1983-01-10) |
| 2 | "Wembley and the Gorgs" | January 17, 1983 (1983-01-17) |
| 3 | "Let the Water Run" | January 24, 1983 (1983-01-24) |
| 4 | "You Can't Do That Without a Hat" | January 31, 1983 (1983-01-31) |
| 5 | "The Thirty-Minute Work Week" | February 7, 1983 (1983-02-07) |
| 6 | "The Preachification of Convincing John" | February 14, 1983 (1983-02-14) |
| 7 | "I Want to Be You" | February 21, 1983 (1983-02-21) |
| 8 | "The Terrible Tunnel" | February 28, 1983 (1983-02-28) |
| 9 | "The Lost Treasure of the Fraggles" | March 7, 1983 (1983-03-07) |
| 10 | "Don't Cry Over Spilt Milk" | March 14, 1983 (1983-03-14) |
| 11 | "Catch the Tail by the Tiger" | March 21, 1983 (1983-03-21) |
| 12 | "The Finger of Light" | March 28, 1983 (1983-03-28) |
| 13 | "We Love You, Wembley" | April 4, 1983 (1983-04-04) |
| 14 | "The Challenge" | April 11, 1983 (1983-04-11) |
| 15 | "I Don't Care" | April 18, 1983 (1983-04-18) |
| 16 | "Capture the Moon" | April 25, 1983 (1983-04-25) |
| 17 | "Marooned" | May 2, 1983 (1983-05-02) |
| 18 | "The Minstrels" | May 9, 1983 (1983-05-09) |
| 19 | "The Great Radish Famine" | May 16, 1983 (1983-05-16) |
| 20 | "The Garden Plot" | May 23, 1983 (1983-05-23) |
| 21 | "Gobo's Discovery" | May 30, 1983 (1983-05-30) |
| 22 | "Mokey's Funeral" | June 6, 1983 (1983-06-06) |
| 23 | "The Beast of Blue Rock" | June 13, 1983 (1983-06-13) |
| 24 | "New Trash Heap in Town" | July 4, 1983 (1983-07-04) |
Season 2: 1984
| Episode | Title | Original airdate |
| --- | --- | --- |
| 1 | "Wembley's Egg" | January 2, 1984 (1984-01-02) |
| 2 | "Boober Rock" | January 9, 1984 (1984-01-09) |
| 3 | "The Trash Heap Doesn't Live Here Anymore" | January 16, 1984 (1984-01-16) |
| 4 | "Red's Sea Monster" | January 23, 1984 (1984-01-23) |
| 5 | "Uncle Matt Comes Home" | January 30, 1984 (1984-01-30) |
| 6 | "Boober's Dream" | February 6, 1984 (1984-02-06) |
| 7 | "Mokey and the Minstrels" | February 13, 1984 (1984-02-13) |
| 8 | "All Work and All Play" | February 20, 1984 (1984-02-20) |
| 9 | "Sir Hubris and the Gorgs" | February 27, 1984 (1984-02-27) |
| 10 | "A Friend in Need" | March 5, 1984 (1984-03-05) |
| 11 | "The Wizard of Fraggle Rock" | March 12, 1984 (1984-03-12) |
| 12 | "The Doozer Contest" | March 19, 1984 (1984-03-19) |
| 13 | "Red's Club" | March 26, 1984 (1984-03-26) |
| 14 | "The Secret of Convincing John" | April 2, 1984 (1984-04-02) |
| 15 | "Manny's Land of Carpets" | April 9, 1984 (1984-04-09) |
| 16 | "Junior Sells the Farm" | April 16, 1984 (1984-04-16) |
| 17 | "Fraggle Wars" | April 23, 1984 (1984-04-23) |
| 18 | "The Day the Music Died" | April 30, 1984 (1984-04-30) |
| 19 | "Doomsday Soup" | May 7, 1984 (1984-05-07) |
| 20 | "A Cave of One's Own" | May 14, 1984 (1984-05-14) |
| 21 | "Wembley and the Great Race" | May 21, 1984 (1984-05-21) |
| 22 | "Doozer Is As Doozer Does" | May 28, 1984 (1984-05-28) |
| 23 | "Boober's Quiet Day" | June 4, 1984 (1984-06-04) |
| 24 | "The Invasion of the Toe Ticklers" | June 11, 1984 (1984-06-11) |
Season 3: 1984-1985
| Episode | Title | Original airdate |
| --- | --- | --- |
| 1 | "The Bells of Fraggle Rock" | December 24, 1984 (1984-12-24) |
| 2 | "Red-Handed and the Invisible Thief" | January 7, 1985 (1985-01-07) |
| 3 | "Boober and the Glob" | January 14, 1985 (1985-01-14) |
| 4 | "The Grapes of Generosity" | January 21, 1985 (1985-01-21) |
| 5 | "Blanket of Snow, Blanket of Woe" | January 28, 1985 (1985-01-28) |
| 6 | "Pebble Pox Blues" | February 4, 1985 (1985-02-04) |
| 7 | "Home Is Where the Trash Is" | February 11, 1985 (1985-02-11) |
| 8 | "Believe It or Not" | February 18, 1985 (1985-02-18) |
| 9 | "Wembley and the Mean Genie" | February 25, 1985 (1985-02-25) |
| 10 | "The Secret Society of Poobahs" | March 4, 1985 (1985-03-04) |
| 11 | "The Beanbarrow, the Burden and the Bright Bouquet" | March 11, 1985 (1985-03-11) |
| 12 | "Gobo's School for Explorers" | March 18, 1985 (1985-03-18) |
| 13 | "Scared Silly" | March 25, 1985 (1985-03-25) |
| 14 | "The Great Radish Caper" | April 1, 1985 (1985-04-01) |
| 15 | "Born to Wander" | April 8, 1985 (1985-04-08) |
| 16 | "The Battle of Leaking Roof" | April 15, 1985 (1985-04-15) |
| 17 | "Playing Till It Hurts" | April 22, 1985 (1985-04-22) |
| 18 | "Bored Stiff" | April 29, 1985 (1985-04-29) |
| 19 | "The Cavern of Lost Dreams" | May 6, 1985 (1985-05-06) |
| 20 | "The Incredible Shrinking Mokey" | May 13, 1985 (1985-05-13) |
| 21 | "A Dark and Stormy Night" | May 20, 1985 (1985-05-20) |
| 22 | "Gunge the Great and Glorious" | May 27, 1985 (1985-05-27) |
Season 4: 1986
| Episode | Title | Original airdate |
| --- | --- | --- |
| 1 | "Sprocket's Big Adventure" | January 6, 1986 (1986-01-06) |
| 2 | "Wembley's Wonderful Whoopie Water" | January 13, 1986 (1986-01-13) |
| 3 | "Sidebottom Blues" | January 20, 1986 (1986-01-20) |
| 4 | "Uncle Matt's Discovery" | January 27, 1986 (1986-01-27) |
| 5 | "Junior Faces the Music" | February 3, 1986 (1986-02-03) |
| 6 | "A Tune for Two" | February 10, 1986 (1986-02-10) |
| 7 | "The Perfect Blue Rollie" | February 17, 1986 (1986-02-17) |
| 8 | "A Brush with Jealousy" | February 24, 1986 (1986-02-24) |
| 9 | "Wembley's Flight" | March 3, 1986 (1986-03-03) |
| 10 | "Red's Blue Dragon" | March 10, 1986 (1986-03-10) |
| 11 | "Wonder Mountain" | March 17, 1986 (1986-03-17) |
| 12 | "Space Frog Follies" | March 24, 1986 (1986-03-24) |
| 13 | "Boober Gorg" | March 31, 1986 (1986-03-31) |
Season 5: 1987
| Episode | Title | Original airdate |
| --- | --- | --- |
| 1 | "Mirror, Mirror" | January 5, 1987 (1987-01-05) |
| 2 | "The Riddle of Rhyming Rock" | January 12, 1987 (1987-01-12) |
| 3 | "The Voice Inside" | January 19, 1987 (1987-01-19) |
| 4 | "The Trial of Cotterpin Doozer" | January 26, 1987 (1987-01-26) |
| 5 | "The River of Life" | February 2, 1987 (1987-02-02) |
| 6 | "Beyond the Pond" | February 9, 1987 (1987-02-09) |
| 7 | "Gone But Not Forgotten" | February 16, 1987 (1987-02-16) |
| 8 | "Mokey, Then and Now" | February 23, 1987 (1987-02-23) |
| 9 | "Ring Around the Rock" | March 2, 1987 (1987-03-02) |
| 10 | "Inspector Red" | March 9, 1987 (1987-03-09) |
| 11 | "The Gorg Who Would Be King" | March 16, 1987 (1987-03-16) |
| 12 | "The Honk of Honks" | March 23, 1987 (1987-03-23) |
| 13 | "Change of Address" | March 30, 1987 (1987-03-30) |

Copyright(C) 2007 - 2020. All rights reserved