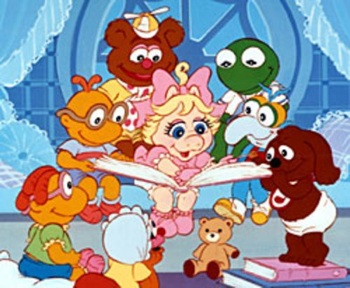 Jim Henson's Muppet Babies was an American animated television series that aired from September 15, 1984 to December 29, 1990 on CBS. It was spun off from a dream sequence in The Muppets Take Manhattan, released two months earlier, where Miss Piggy imagined what it would be like if she and Kermit the Frog grew up together. The show portrayed childhood versions of the Muppets living together in a large nursery in the care of a human woman called Nanny (the whereabouts of their parents are never addressed). Nanny appears in almost every episode, but viewers never see her face, only the babies' view of her pink skirt as well as her distinctive green and white striped socks.
The Muppet Babies live in a large nursery watched over by Nanny, the only human character in the show. The babies have active imaginations, and often embark on adventures into imaginary worlds and perilous situations from which they are eventually returned to reality by some external event, such as Nanny coming to see what the noise was. They are constantly finding creative ways to entertain themselves and learn to work together to solve problems and survive their wild-imagined adventures.
Each episode included a single storyline. Usually the babies were confronted with a child-like problem, such as fear of the dentist, or a question, such as 'where do muffins come from?' Other times, they were simply finding ways to amuse themselves with old toys or video tape equipment. The babies would then enter into their imaginations, transforming their toys into everything from time machines to pirate ships. Nearly every episode contained one song, and occasionally more than one. After the credits, the episodes would end with Animal shouting out his catchphrase 'Go bye-bye!' usually while Gonzo blasted off into the sky due to some accident he or Animal had caused.
Although the program was a cartoon, live-action film sequences were added in unusual moments. Whenever the babies opened a door, box or book, they were often confronted with anything from a speeding train to a space ship. Foreign landscapes in their imagination were usually photos or bits of stock footage which the babies would walk across, interacting indirectly with the film's actors. Though much of the live-action came from stock footage and old black-and-white horror/monster films, more recent films such as Star Wars and Indiana Jones were also played and parodied.
The show was drawn from the babies' point of view, meaning the babies were always looking up to view the world. Objects like couches and doors were far larger than normal and more momentous obstacles for the babies. As a result of the upward view, the faces of adult characters were never shown. Nanny was only ever seen from the shoulders down as were the adults in the babies' fantasies. Exceptions were made for Uncle Statler and Uncle Waldorf and a few 'Muppet style' adults in the fantasy worlds.
Season 1 (1984)
| No. | Title | Initial airing |
| --- | --- | --- |
| 1.01 | "Noisy Neighbors" | September 15, 1984 (1984-09-15) |
| 1.02 | "Who's Afraid of the Big, Bad Dark?" | September 22, 1984 (1984-09-22) |
| 1.03 | "Dental Hijinks" | September 29, 1984 (1984-09-29) |
| 1.04 | "Raiders of the Lost Muppet" | October 6, 1984 (1984-10-06) |
| 1.05 | "Scooter's Hidden Talent" | October 13, 1984 (1984-10-13) |
| 1.06 | "The Case of the Missing Chicken" | October 20, 1984 (1984-10-20) |
| 1.07 | "Eight Take-Away One Equals Panic" | October 27, 1984 (1984-10-27) |
| 1.08 | "What Do You Wanna Be When You Grow Up?" | November 3, 1984 (1984-11-03) |
| 1.09 | "Close Encounters of the Frog Kind" | November 10, 1984 (1984-11-10) |
| 1.10 | "Gonzo's Video Show" | November 17, 1984 (1984-11-17) |
| 1.11 | "Fun Park Fantasies" | November 24, 1984 (1984-11-24) |
| 1.12 | "From a Galaxy Far, Far Away" | December 1, 1984 (1984-12-01) |
| 1.13 | "Good, Clean, Fun" | December 8, 1984 (1984-12-08) |
Season 2 (1985)
| No. | Title | Initial airing |
| --- | --- | --- |
| 2.01 | "Once Upon an Egg Timer" | September 14, 1985 (1985-09-14) |
| 2.02 | "Piggy's Hyper-Activity Book" | September 21, 1985 (1985-09-21) |
| 2.03 | "Fozzie's Last Laugh" | September 28, 1985 (1985-09-28) |
| 2.04 | "The Great Cookie Robbery" | October 5, 1985 (1985-10-05) |
| 2.05 | "Out-of-This-World History" | October 12, 1985 (1985-10-12) |
| 2.06 | "Snow White and the Seven Muppets" | October 19, 1985 (1985-10-19) |
| 2.07 | "I Want My Muppet TV!" | October 26, 1985 (1985-10-26) |
| 2.08 | "Musical Muppets" | November 2, 1985 (1985-11-02) |
| 2.09 | "What's New at the Zoo?" | November 9, 1985 (1985-11-09) |
| 2.10 | "The Great Muppet Cartoon Show" | November 16, 1985 (1985-11-16) |
| 2.11 | "The Muppet Museum of Art" | November 23, 1985 (1985-11-23) |
| 2.12 | "By the Book" | November 30, 1985 (1985-11-30) |
| 2.13 | "When You Wish Upon a Muppet" | December 7, 1985 (1985-12-07) |
Season 3 (1986)
| No. | Title | Initial airing |
| --- | --- | --- |
| 3.01 | "Pigerella" | September 13, 1986 (1986-09-13) |
| 3.02 | "The Best Friend I Never Had" | September 20, 1986 (1986-09-20) |
| 3.03 | "The Weirdo Zone" | September 27, 1986 (1986-09-27) |
| 3.04 | "Muppets in Toyland" | October 4, 1986 (1986-10-04) |
| 3.05 | "The Muppet Broadcasting Company" | October 11, 1986 (1986-10-11) |
| 3.06 | "Kermit Goes to Washington" | October 18, 1986 (1986-10-18) |
| 3.07 | "Fozzie's Family Tree" | October 25, 1986 (1986-10-25) |
| 3.08 | "The Daily Muppet" | November 1, 1986 (1986-11-01) |
| 3.09 | "Scooter's Uncommon Cold" | November 8, 1986 (1986-11-08) |
| 3.10 | "Treasure Attic" | November 15, 1986 (1986-11-15) |
| 3.11 | "Around the Nursery in 80 Days" | November 22, 1986 (1986-11-22) |
| 3.12 | "Fine Feathered Enemies (originally "Polly Wants a Muppet")" | November 29, 1986 (1986-11-29) |
| 3.13 | "Muppet Goose" | December 6, 1986 (1986-12-06) |
| 3.14 | "Bad Luck Bear" | December 13, 1986 (1986-12-13) |
| 3.15 | "Of Mice and Muppets" | December 20, 1986 (1986-12-20) |
| 3.16 | "Back to the Nursery" | December 27, 1986 (1986-12-27) |
Season 4 (1987-1988)
| No. | Title | Initial airing |
| --- | --- | --- |
| 4.01 | "Muppetland" | September 19, 1987 (1987-09-19) |
| 4.02 | "Water Babies" | September 26, 1987 (1987-09-26) |
| 4.03 | "The Incredible Shrinking Weirdo" | October 3, 1987 (1987-10-03) |
| 4.04 | "Where No Muppet Has Gone Before" | October 10, 1987 (1987-10-10) |
| 4.05 | "Journey to the Center of the Nursery" | October 17, 1987 (1987-10-17) |
| 4.06 | "This Little Piggy Went to Hollywood" | October 24, 1987 (1987-10-24) |
| 4.07 | "My Muppet Valentine" | October 31, 1987 (1987-10-31) |
| 4.08 | "Invasion of the Muppet Snackers" | November 7, 1987 (1987-11-07) |
| 4.09 | "Twinkle Toe Muppets" | November 14, 1987 (1987-11-14) |
| 4.10 | "Weirdo for the Prosecution" | November 21, 1987 (1987-11-21) |
| 4.11 | "Muppet Island" | November 28, 1987 (1987-11-28) |
| 4.12 | "The Frog Who Knew Too Much" | December 5, 1987 (1987-12-05) |
| 4.13 | "Beach Blanket Babies" | December 12, 1987 (1987-12-12) |
| 4.14 | "Old MacKermit Had a Farm" | December 19, 1987 (1987-12-19) |
| 4.15 | "Adventures in Muppet-Sitting" | December 26, 1987 (1987-12-26) |
| 4.16 | "The House That Muppets Built" | January 2, 1988 (1988-01-02) |
| 4.17 | "Masquerading Muppets" | January 9, 1988 (1988-01-09) |
| 4.18 | "Nanny's Day Off" | January 16, 1988 (1988-01-16) |
Season 5 (1988)
| No. | Title | Initial airing |
| --- | --- | --- |
| 5.01 | "Muppets Not Included" | September 17, 1988 (1988-09-17) |
| 5.02 | "Beauty and the Schnoz" | September 24, 1988 (1988-09-24) |
| 5.03 | "The Pig Who Would Be Queen" | October 1, 1988 (1988-10-01) |
| 5.04 | "Is There a Muppet in the House?" | October 8, 1988 (1988-10-08) |
| 5.05 | "Slipping Beauty" | October 15, 1988 (1988-10-15) |
| 5.06 | "Muppet Baby Boom" | October 22, 1988 (1988-10-22) |
| 5.07 | "Scooter By Any Other Name" | October 29, 1988 (1988-10-29) |
| 5.08 | "He's a Wonderful Frog" | November 5, 1988 (1988-11-05) |
| 5.09 | "Elm Street Babies" | November 12, 1988 (1988-11-12) |
| 5.10 | "Plan Eight from Outer Space" | November 19, 1988 (1988-11-19) |
| ]5.11 | "Junkyard Muppets" | November 26, 1988 (1988-11-26) |
| 5.12 | "The Air Conditioner at the End of the Galaxy" | December 3, 1988 (1988-12-03) |
| 5.13 | "Bug-Busting Babies" | December 10, 1988 (1988-12-10) |
Season 6 (1989-1990)
| No. | Title | Initial airing |
| --- | --- | --- |
| 6.01 | "This Old Nursery" | September 16, 1989 (1989-09-16) |
| 6.02 | "And Now a Word From Our Muppets" | September 23, 1989 (1989-09-23) |
| 6.03 | "Six-to-Eight Weeks" | September 30, 1989 (1989-09-30) |
| 6.04 | "The Green Ranger" | October 7, 1989 (1989-10-07) |
| 6.05 | "Not Necessarily the Babies" | October 14, 1989 (1989-10-14) |
| 6.06 | "Comic Capers" | October 21, 1989 (1989-10-21) |
| 6.07 | "Faster Than a Speeding Weirdo" | October 28, 1989 (1989-10-28) |
| 6.08 | "Skeeter and the Wolf" | November 4, 1989 (1989-11-04) |
| 6.09 | "Romancing the Weirdo" | November 11, 1989 (1989-11-11) |
| 6.10 | "The New Adventures of Kermo Polo" | November 18, 1989 (1989-11-18) |
| 6.11 | "Goosetown Babies" | November 25, 1989 (1989-11-25) |
| 6.12 | "It's Only Pretendo" | December 2, 1989 (1989-12-02) |
| 6.13 | "Quoth the Weirdo" | December 9, 1989 (1989-12-09) |
| 6.14 | "Operators are Standing By" | December 16, 1989 (1989-12-16) |
| 6.15 | "Babes in Troyland" | December 23, 1989 (1989-12-23) |
| 6.16 | "Puss 'n' Boots 'n' Babies" | December 30, 1989 (1989-12-30) |
| 6.17 | "Muppets of Invention" | January 6, 1990 (1990-01-06) |
| 6.18 | "A Punch Line to the Tummy" | January 13, 1990 (1990-01-13) |
| 7.08 | "Muppet Babies: The Next Generation" | 15 September 1990 (1990-09-15) |
| 7.09 | "Buckskin Babies" | 22 September 1990 (1990-09-22) |
| 7.10 | "Sing a Song of Superheroes" | 29 September 1990 (1990-09-29) |
| 7.11 | "Gonzee's Playhouse Channel" | 6 October 1990 (1990-10-06) |
| 7.12 | "Kermit Pan" | 13 October 1990 (1990-10-13) |
| 7.13 | "Whose Tale is it Anyway?" | 20 October 1990 (1990-10-20) |
| 7.14 | "At the Movies" | 27 October 1990 (1990-10-27) |
| 7.15 | "In Search of the Bronzed Beetle" | 3 November 1990 (1990-11-03) |
Season 7 (1990)
| No. | Title | Initial airing |
| --- | --- | --- |
| 8.01 | "Transcontinental Whoo-Whoo" | 10 November 1990 (1990-11-10) |
| 8.02 | "Get Me to the Perch on Time" | 17 November 1990 (1990-11-17) |
| 8.03 | "Bearly Alone Babies" | 24 November 1990 (1990-11-24) |
| 8.04 | "Remote Controlled Cornballs" | 1 December 1990 (1990-12-01) |
| 8.05 | "Nice to Have Gnome You" | 8 December 1990 (1990-12-08) |
| 8.06 | "Happy Birthday Uncle Piggy" | 15 December 1990 (1990-12-15) |
| 8.07 | "Hats!, Hats!, Hats!" | 22 December 1990 (1990-12-22) |
| 8.08 | "Eight Flags Over The Nursery" | 29 December 1990 (1990-12-29) |

Copyright(C) 2007 - 2020. All rights reserved