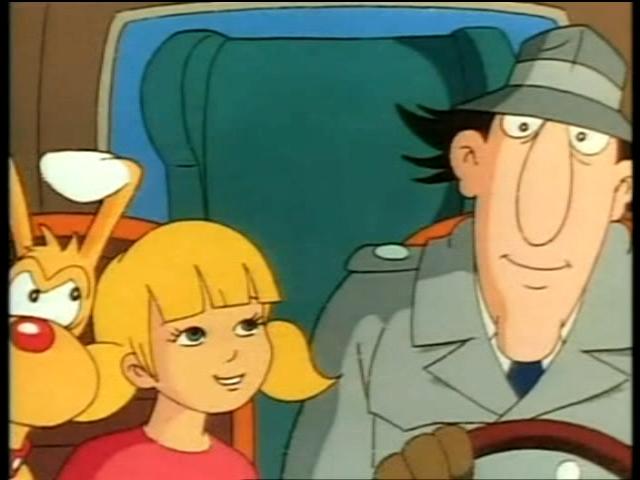 Inspector Gadget is an
animated television series
about a clumsy, simple-witted detective named Inspector Gadget, who is a human being with various bionic gadgets built into his body. Gadget's arch-nemesis is Dr. Claw, the leader of an evil organization, known as "M.A.D.".
[
Penny is Gadget's precocious niece and partner. Inspector Gadget is her guardian and caretaker, though often she seems more suited to be his caretaker due to Gadget's clumsiness. Unknown to any of the recurring characters other than Brain, she is a master of investigation and technology who is the one truly responsible for foiling M.A.D.'s schemes. Penny's principal crime-fighting tool is a high-tech Computer Book capable of breaking codes, surveiling buildings and overriding practically any sort of machine or device. Using the book, Penny is able to monitor Gadget's activities and—with Brain's help—surreptitiously help him avoid numerous potential catastrophes that result from his absent-mindedness while uncovering the true nature of Dr. Claw's plot and foiling it. Penny has blonde hair in pigtails and green eyes, and wears a red and white shirt, green pants and red shoes. She has a number of outfits which are worn for certain assignments or free times rather than her normal clothes. In the second season, Penny mostly wears a jacket. She has a number of the perils and plays the helpless
damsel-in-distress
role, rescued by Brain usually, and escaping by herself sometimes
M.A.D. Cat is Dr. Claw's fat pet cat. M.A.D. Cat is always at Dr. Claw's side, usually curled up next to Claw's control panel. M.A.D. Cat serves as a foil for Dr. Claw, often being petted when Dr. Claw is happy, to the point of getting beat up when Dr. Claw gets angry. M.A.D. Cat "talks" in cat sounds. M.A.D. Cat has an evil, hissing laugh.
| | |
| --- | --- |
| Original U.S. Airdate | Episode Title |
| September 12, 1983 | Winter Olympics |
| September 13, 1983 | Monster Lake |
| September 14, 1983 | Down on the Farm |
| September 15, 1983 | Gadget at the Circus |
| September 16, 1983 | The Amazon |
| September 19, 1983 | Health Spa |
| September 20, 1983 | The Boat |
| September 21, 1983 | Haunted Castle |
| September 22, 1983 | Race to the Finish |
| September 23, 1983 | The Ruby |
| September 26, 1983 | A Star is Lost |
| September 27, 1983 | All That Glitters |
| September 28, 1983 | Movie Set |
| September 29, 1983 | Amusement Park |
| September 30, 1983 | Art Heist |
| October 3, 1983 | Volcano Island |
| October 4, 1983 | The Invasion |
| October 5, 1983 | The Infiltration |
| October 6, 1983 | The Curse of the Pharaoh |
| October 7, 1983 | M.A.D. Trap |
| October 10, 1983 | Basic Training |
| October 11, 1983 | Sleeping Gas |
| October 12, 1983 | Gadget's Replacement |
| October 13, 1983 | Greenfinger |
| October 14, 1983 | Gadget Goes West |
| October 17, 1983 | Launch Time |
| October 18, 1983 | Photo Safari |
| October 19, 1983 | Coo Clock Caper |
| October 20, 1983 | The Bermuda Triangle |
| October 21, 1983 | The Japanese Connection |
| October 24, 1983 | Arabian Nights |
| October 25, 1983 | Clear Case |
| October 26, 1983 | Dutch Treat |
| October 27, 1983 | The Great Divide |
| October 28, 1983 | Eye of the Dragon |
| October 31, 1983 | Doubled Agent |
| November 1, 1983 | Plantform of the Opera |
| November 2, 1983 | Don't Hold Your Breath |
| November 3, 1983 | Gone Went the Wind |
| November 4, 1983 | King Wrong |
| November 7, 1983 | Pirate Island |
| November 8, 1983 | M.A.D. Academy |
| November 9, 1983 | No Flies on Us |
| November 10, 1983 | Luck of the Irish |
| November 11, 1983 | Prince of the Gypsies |
| November 14, 1983 | Old Man of the Mountain |
| November 15, 1983 | The Emerald Duck |
| November 16, 1983 | Do Unto Udders |
| November 17, 1983 | Did You Myth Me? |
| November 18, 1983 | A Bad Altitude |
| November 21, 1983 | Funny Money |
| November 22, 1983 | Follow That Jet |
| November 23, 1983 | Dry Spell |
| November 24, 1983 | Smeldorado |
| November 25, 1983 | Quimby Exchange |
| November 28, 1983 | Weather in Tibet |
| November 29, 1983 | Unhenged |
| November 30, 1983 | Snakin' All Over |
| December 1, 1983 | In Seine |
| December 2, 1983 | Tree Guesses |
| December 5, 1983 | Birds of a Feather |
| December 6, 1983 | So it is Written |
| December 7, 1983 | Fang the Wonder Dog |
| December 8, 1983 | School for Pickpockets |
| December 9, 1983 | Quiz Master |
| | |
| --- | --- |
| Ep# | Episode Title |
| 2-01 | Magic Gadget |
| 2-02 | The Great Wambini's Seance |
| 2-03 | Wambini Predicts |
| 2-04 | The Capeman Cometh |
| 2-05 | Crashcourse in Crime |
| 2-06 | Gadget's Gadgets |
| 2-07 | Gadget in Minimadness |
| 2-08 | The Incredible Shrinking Gadget |
| 2-09 | Gadget Meets the Grappler |
| 2-10 | Ghost Catchers |
| 2-11 | Busy Signal |
| 2-12 | Bad Dreams Are Made of This |
| 2-13 | Focus on Gadget |
| 2-14 | Mad in the Moon |
| 2-15 | N.S.F. Gadget |
| 2-16 | Tyrannosaurus Gadget |
| 2-17 | Gadget's Roma |
| 2-18 | Gadget's Clean Sweep |
| 2-19 | Gadget Meets the Clan |
| 2-20 | Gadget and Old Lace |
| 2-21 | Gadget and the Red Rose |

Copyright(C) 2007 - 2020. All rights reserved