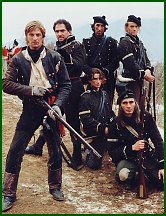 Richard Sharpe
Richard Sharpe is a central character in Bernard Cornwell's Shapre book series, which spawned the television series 'Sharpe' in which the character is played by Sean Bean.
the stories chart the progress of Sharpe in the British Army during the Napoleonic Wars, in which we first see him as a private - yet after successive promotions he becomes Lietenant Colonel in Sharpe's Waterloo. the series dramatises his struggle for acceptance and respect not only from his fellow officers, but also from them who he commands. Sharpe was born a guttersnipe in the rookeries of London. Promoted on the battlefield he leaves his own class behind to take a commission in an army where rank is usually bought, yet unlike almost all the other officers he serves with, Sharpe knows how to fight. Sharpe is described as "brilliant but wayward" in Sharpe's Sword, and is acknowledged by the author to be a loose cannon. A highly skilled leader of light troops, he takes part in a wide array of historical events during the Napoleonic Wars and other conflicts, including the Battle of Waterloo. The earliest books are set in India and chronicle Sharpe's years spent in the ranks.
Richard Sharpe was born in London around 1776 or 1777 to a prostitute mother and an unknown father. When Sharpe was three, his mother was killed in the Gordon riots, leaving him an orphan. With no other known relatives to claim him, Sharpe was deposited in Jem Hocking's foundling home at Brewhouse Lane, Wapping, where he spent his days picking his assigned quota of Oakum. He was regularly beaten and malnuorished, resulting in his being undersized for his age. Because of this, he was eventually sold to a master Chimney Sweep to train as an 'apprentice' at the relatively late age of 12. Fearing the high mortality rate among apprentice sweeps, Sharpe fled for St. Giles' Rookery, and was taken in by bar-owner and prostitute Maggie Joyce. He stayed under Maggie's protection for three years, learning multiple forms of thieving. After killing a gang leader during a fight over Maggie, he escaped from London to Yorkshire at the age of fifteen. Within six months, Sharpe had killed a second man in a fight over a local girl. Partly as a result of the enticements of recruiting officer Sergeant Obadiah Hakeswill, he joined the army to avoid the law.
His regiment, the 33rd foot, sometimes known as "The Havercakes" due to a havercake being engraved on the officers' swords was first sent to Holland in 1794, where Sharpe fought in his first battle at Boxtell. The next year, he and his regiment were posted to India under the command of the British East India Company.
In 1799, Sharpe was sentenced to 2000 lashes (a death sentence) for striking an officer, but was released after only 200 by executive order. He was assigned to accompany Lieutenant William Lawford on a secret mission to rescue his uncle, intelligence agent Colonel McCandless. They joined the Tippoo Sultan's army posing as British deserters, but were later exposed and imprisoned. Lawford taught Sharpe to read while imprisoned in the Tippoo's dungeon. Sharpe escaped during the Siege of Seringapatam, killing the Tippoo Sultan after destroying a mine meant to devastate the British army. Sharpe was promoted to Sergeant, as promised, for his successful efforts.
Sharpe served four years as Armory Sergeant in Seringapatam. In 1803, while on official business in Chasalgoan he suffered a head wound during a massacre ordered by Lieutenant William Dodd. Shortly afterwards, he was attached to Colonel McCandless on a mission to find and capture Dodd. The mission took him to both Ahmednuggur and the battle of Assaye, even though the 33rd Foot were not present at either battle. His attachment to McCandless led to his being posted with the top tier of officers during Assaye, and being assigned as temporary aide to Arthur Wellesley (Wellington) after the original staff aide was killed. In the middle of the battle, Wellesley fell from his horse and was set upon by enemy soldiers. Sharpe pushed Wellesley under a nearby cannon and fought off the attackers until safe. For his bravery, Sharpe was given a commission and joined the 74th Regiment as an Ensign. This was a highly unusual event at this time, usually ending in the soldier resigning or turning to drink because the upper classed commissioned officers would not accept them. Even Wellesley himself did not grant Sharpe any special honours or unearned promotions after this point. Difficult though his position was - he was neither one of the men nor a 'true officer' - he soldiered on, but he still could not gain acceptance in his new regiment. Eventually his superiors arrange for him to be transferred to the newly formed 95th Rifles Regiment.
Returning from India in 1805, Sharpe was caught up in the Battle of Trafalger. This was his first encounter with France and her allies.
After this, Sharpe headed for Portugal and the Peninsular War, finally showing his leadership abilities after all the more senior officers of his company were killed in an ambush during the retreat to Portugal in 1809. Upon returning to Portugal (where he first met Michael Hogan, the head of intelligence for Wellesley), the surviving riflemen became the light company of the South Essex Regiment. While assigned to the South Essex, Sharpe performed a number of heroic feats either in the service of Hogan, or in order to gain promotion through the officer ranks. In order to keep command of the light company, Sharpe undertook the capture of a french Imperial Eagle at the Battle of Talavera in 1809. In order to secure further promotion, he was the first over the breach at badajoz. Over time, he gradually took unofficial command of the entire regiment. Before the Battle of Toulouse, Sharpe was sent to capture a fort in the 'Bassin D'Arcachon', the Teste de Buch just below Bordeaux. During this time Sharpe faced one of his most dangerous situations yet: he found himself trapped in the fort due to Pierre Ducos' planning after capturing it, and was faced with numerous heavy attacks on the fort by General Calvet. He eventually escaped from this dire situation. The chronologically antepenultimate story recounts Sharpe's involvement in the famous Battle of Waterloo. During the battle, Sharpe finally became a substantive Lieutenant Colonel in command of the South Essex.
In the final book, Sharpe's Devil, Sharpe was commissioned by the Countess of Mouromorto to travel to South America to find out what happened to her husband Don Blas Vivar, who had disappeared while acting as Spanish Captain General in Chile; Blas Vivar had been a principal character in the events of Sharpe's Rifles. As usual, he was accompanied by his Sergeant, later Regimental Sergeant Major, in Sharpe's Regiment (and friend) Patrick Harper. Enroute they stopped to visit the imprisoned Napoleon Bonepart on Saint Helena.....
The Sharpe Companion gives Sharpe's year of death as 1860, though this is never stated in any of the books.

Copyright(c) 2007 - 2025. All rights reserved